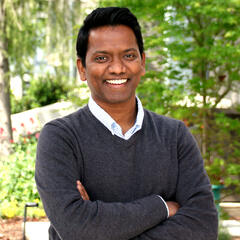 Vijay Sivaji
Hello! I am a design leader with 17 years of experience in B2C and B2B SaaS apps.
I build high-performance UX teams and champion customer-centered product growth.
Work
Over the years, I have worked on large scale digital products, solved complex user problems and added over $50M top-line revenue.

[Contact me for portfolio and playbook]
About
I was born in India and moved to the United States in my early 20s. Together with my wife, I now raise 2 kids and strive to live a missional life in the Bay Area which we call home.
Consulting
Mentorship: If you are a new grad getting started with design or product, or a senior product person trying to getting into people management, I am happy to share my experience with you.

Product Consulting: If you are a startup founder, I can help with MVP product roadmap, lean UX research, design experimentation, rapid prototyping and more actionable customer validation techniques

VJ's Office Hours